DDC Inbound Shipping Guide
Table of Contents
Introduction:
Sections:
< Back
Receive-Ready Trailers
Published 09/28/2018, 09:01 PM
Last Update 07/01/2022, 05:09 PM
Questions about this section? Contact Dist_Ops_Support@bestbuy.com.
---
5.1 Trailer Requirements - Truckload (TL) and Less-than-Truckload (LTL)
Applicable to Truckload and LTL.
Truckload (TL): A loaded, over-the-road (or intermodal) trailer that retains an intact shipper-applied seal all the way through arrival inspection at the Best Buy Guard House.
Less-than-Truckload (LTL): Mode of transport that runs on a "hub and spoke" operational network of interconnected of terminals (as well as long-and-short haul trailers) meant to transport small freight.
Only Best Buy compliant trailers will be accepted. Trailers must be either Dry Vans (53, 48, or 28 foot) or Steamship Containers (40 or 20 foot). Refrigerated, Lowboy, Flatbed, Conestoga, or any other trailer types are not compliant and will be refused.
For both TL and LTL, trailers must meet the following qualifications:
Swing doors or Rollup doors (No lift-gates)
ICC Bumper Bar o Inside trailer height must be at least 100 inches
Trailer bed floor must be:

Between 46-to-52 inches high (from the ground).
Free of debris and no protruding nails.

Other than product classified as ORM-D, no hazardous material should be on a delivering trailer.
5.2 "Receive-Ready" Trailer-Loading
Do not ship loose floor-loaded product.
Shipping configuration must be either palletized or approved bundles.
5.2.1 Product Order
At the tail-end of the trailer, destination (and if multi-stop delivery order) specific product must be immediately accessible for unload. If other product breaks up the continuous (destination-specific) product order, any nonaccessible product (discontinuous in order, or non-like destination top-stacking) is present, Best Buy may consider the remainder of the trailer's contents unfit for receiving, potentially resulting in documented shortage.
Avoid stacking non like-PO product on top of each other.
From the tail-end and up through the nose-end of the trailer, product adjacencies need to be in-order grouped:

First by Like-Logistical Unit (Pallets vs. Floor-loaded Bundles). If trailer is to be loaded with a mix of logistical units, load palletized product in the nose-end of the trailer and afterwards load floor-loaded bundles.
Next by Like-PO (Purchase Order) Number.
Lastly by Like-Model/UPC.

The two trailer-loading examples below have proper product adjacencies.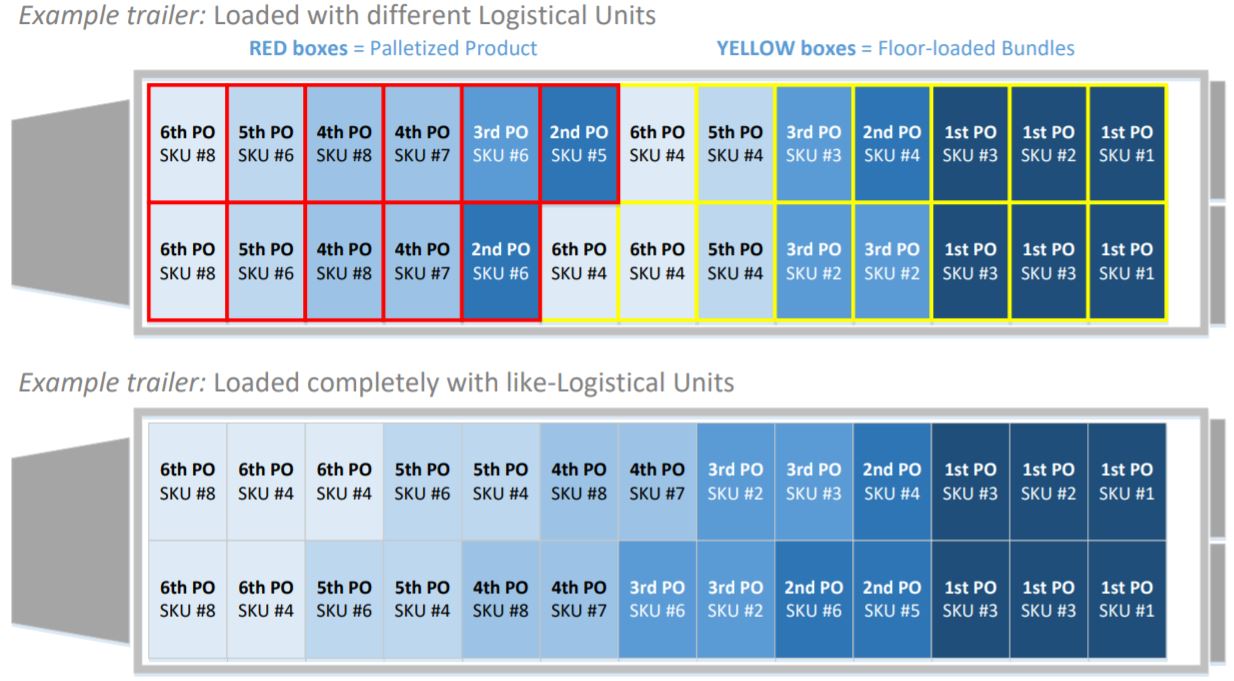 5.2.2 On-Trailer Location of Documents
When building Truckload trailers, and if packing slips are not at the pallet-level, Packing Slips (and applicable documentation) must be immediately visible at the tail-end of the trailer, with the following trailer-loading methodology:

When shipping via LTL, vendors/shippers should position all Packing Slips, at least one of the Shipping Labels, and any applicable "Mixed Pallet" placards along one of the short (40") sides of each pallet.
When building LTL trailers, the (pallet-level) Packing Slips side of each pallet should face towards the tail-end of the trailer, with the following trailer-loading methodology:

5.2.3 Product Orientation & Spacing
On each pallet (or individual floor-loaded logistical unit), at least one shipping label must face towards the tail-end.
For floor-loaded and/or bundled product:

Immediate no-touch/quick-clamp product orientation needs to exist all throughout the trailer.
Wall-to-wall (left-to-right, and through the entire length of the trailer) loaded product must have a minimum of 3 inches of space.
Without prescribed spacing, undue risk of product damage and excessive labor/detention is incurred.

For palletized product:

Without need of repositioning, pallet-orientation must allow immediate forklift access for ease of offloading.
Without this, safety risk to BBY employees (manual repositioning) and undue risk of product damage is incurred.

Shipments may not be separated vertically by dividers.
Securement (such as load straps, airbags, etc.) should be made with considerations to mode of transit, navigating high-altitudes (ex: appropriateness of airbags), and specific product handling requirements. Nailing securement into the floor of a trailer is not permitted. Of note, Best Buy is not liable to return trailer securement back to vendors.
Required vertical trailer clearance between the product and the top of the trailer:

Swing Door Trailers = At least 4 inches of clearance. TVs shipments require 8 inches of clearance [Reference Section 8].
Roll Door Trailers = At least 10 inches of clearance
5.2.4 Prone versus Pistol Loading
"Prone" loading is reserved only for refrigerators and should take place only when attempting to maximize trailer cube by top-stacking units. When doing so, prone-loaded units must rest on the unit's BACK-side and be perpendicular to the (long) length of the trailer (ex: BLUE units).
"Pistol" loading, where units are parallel to the (long) length of the trailer is not allowed under any circumstance (ex: ORANGE units).
Units resting directly on the surface of the trailer must remain upright and on the unit's intended base.