View Dock Commitments
Select the + sign next to Dock Schedule on the left side of the screen.
This will open the Navigation Menu where you can select Dock Commitments:

The List of Dock Commitments will be sorted in ascending order by Shipping Location ID, Shipping Location Type and Dock ID and then in descending sequence by Start Date/Time. You can check your appointment date/time by entering the assigned Load ID in the External ID search box then click the refresh icon next to the box or hit Enter:

This will open the Dock Commitment Gantt Chart for the location selected. Deliveries scheduled by the carrier will show in Green, all others will be displayed in Grey:

If you see a thin, orange line running through the docks this signifies that date is at maximum capacity and no more appointments will be added to that date:
Search Dock Commitments
Use this screen to search for dock commitments. Extensive filter functionality is available. This can be used to generate queries based on a combination of location, dock and dock commitments attributes.
You can 'Save' Search criteria for later use, or 'Select Saved Search' to restore and use previously saved search criteria: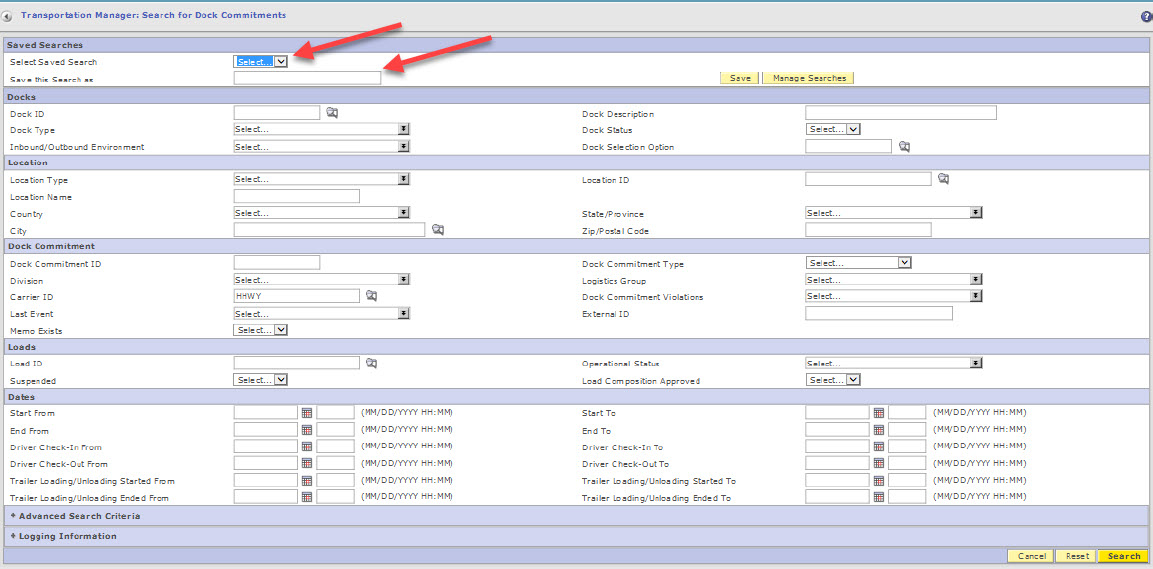 The search screen can be accessed by clicking the magnifying glass icon in the upper-right corner of pages (where available).