Canada
Departments within Canada:
Brand & Display Standards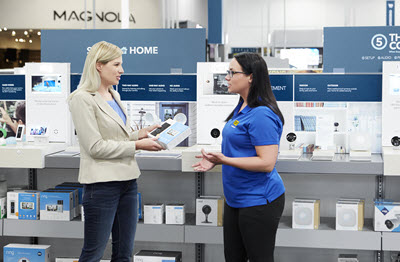 This page has news, upcoming training, and general how-to documentation specific to brand execution information, visual merchandising guidelines, and vendor provided parts and display guidelines relevant to partners doing business in Canada.
At Best Buy we strive to provide customers with an interactive driven experience. The Store Experience team ensures that displays follow specific guidelines based on category, store type, and fixture requirements.
Last Update: 09/11/2023
Document
Promo Signage Asset Guidelines include file size, fonts and trademark logos, language, artwork, and packaged files.
Last Update: 11/17/2021
Document
The health and safety of our Blue Shirts, Agents, Vendor Partners and customers is our number one priority. As we look to increase store accessibility, we want to provide clear instruction on how Vendor Partners and third-party visitors should conduct themselves and the guidelines put in place to protect you and their safety.
Last Update: 07/01/2022
Document
The following guidelines are for assets required by Best Buy for e-commerce, print, digital media and in-store advertising.
Last Update: 10/30/2019
Web Content
This document provides Canada vendor systems and contacts. Please download for future reference.
Last Update: 09/22/2023
Document
This section contains important policies and requirements for our Vendor Partners in Canada.
Last Update: 08/25/2023
Document