null
US Customer Returns - Return Authorization Guide
US Customer Returns - Return Authorization Guide
Published 10/10/2018, 09:41 PM
Last Update 04/13/2021, 08:39 PM
PRC Guidelines (Product Return Centers) - Customer Returns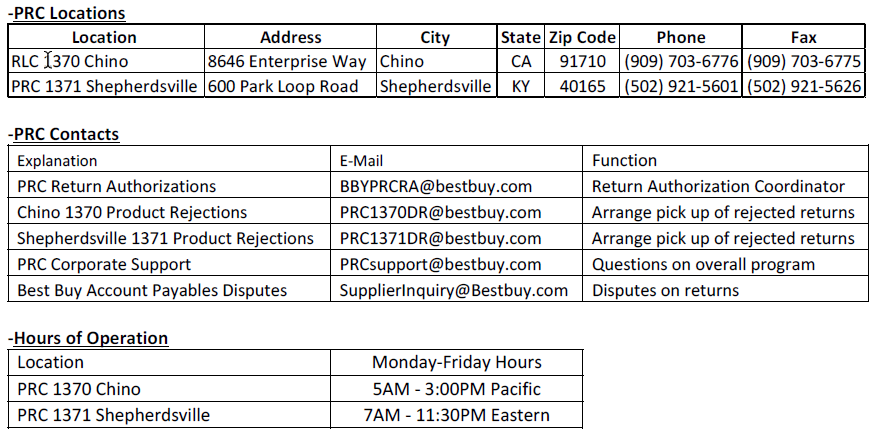 PRC Freight
If responsible for freight, please fill out information found on the Partner Portal.
If information is not submitted there will be a $1,000 deduction per month.
Shipments may be returned to you utilizing Best Buy carriers and a shipping charge applied.
PRC Return Rejections
Overview
Eligibility for returns rejection is based on Vendor Program Agreements (VPA), please see your individual VPA to review what is eligible to be rejected to Best Buy for credit. Items rejected outside of the VPA are not eligible and you will be charged for shipping or disposition.
Items that were returned to you but that are not your product are always eligible for return.
The process below must be completed for proper processing and proper credit to be issued.
Standard Return Rejection Process
Identify items by yellow, white, or orange labels & identify the quantity that needs to be rejected:
a. BL - Best Buy shipment number, located at the top of the item sticker
b. SKU - Best Buy Product Identifier
c. Reason for Rejection - Damaged, Out of Warranty, etc.


Send an email to BBYPRCRA@bestbuy.com notifying us that you have product to reject wit the reasons why:
a. List of Itmes/BLs/Reasons
b. Product can only be rejected within 90 days of shipment receipt

Rejection Return Instructions will be sent with 48 hours
a. Print the DR Return Slip
b. Fill out all fields
c. Return with shipment
d. Return shipments to the appropriate facility (Shepherdsville or Chino). Return shipments sent to the wrong Return Center will not be given credit and may be charged for additional shipping.
Contact either of these email groups to arrange pickup of rejected product (based on where shipment originated from):

PRC Rejection Reasons
Reasons for return on product refusals.
Eligibility for returns rejection is based on Vendor Program Agreements (VPA); please see your individual VPA to review what is eligible to be rejected to Best Buy for credit.
Damaged Item

Unit is physically damaged

Empty Box

Unit was missing from retail box

Incomplete Unit, Missing Accessories

Unit is missing accessories or parts that are required by the program

Out of Warranty

Unit is outside of returns period

Shipped to Wrong Vendor

Product that does not belong to you is returned

Tampered / Customer Fraud

The customer has altered the unit

Unauthorized Return

Product was not authorized for return (incorrect RA, SKU's that are not eligible for return)

Wrong Model Sent

Unit in the box is not what the package indicates
Accounting Disputes on Returns
Please contact the Supplier Inquiry Team to dispute any returns shortages/overages.
Address Changes
Vendor Security Admins ("VSAs") must update addresses directly via the Partner Portal. If you are unsure of your company's VSA, or you need to create a VSA, please contact Partner Support.
To update your Company information in the Partner Portal:
VSA selects My Company under the Profile menu.
Follow the pages and various prompts to update your company information.

A guide on navigating and updating My Company can be found here: https://partners.bestbuy.com/-/my-company-updates-for-vsas
Note - Within My Company, you are also able to do the following:
Correspondence Address
Returns Address
Return Freight Carrier Information
It is the Vendor's responsibility to make sure we have accurate address, Return Freight Carrier Information and Vendor contacts in our systems. Incorrect or incomplete address information will result in you being responsible for shipment resolution, shipping to the correct location or return to sender charges.
Contact the following teams with questions on return address changes:
| Explanation | E-Mail | Function |
| --- | --- | --- |
| PRC Returns Authorizations | BBYPRCRA@bestbuy.com | Return Authorization Coordinator |
| PRC Corporate Support | PRCSupport@bestbuy.com | Questions on overall program |