Repair, Reuse and Recycle – How Best Buy keeps products in use longer
Published 03/27/2023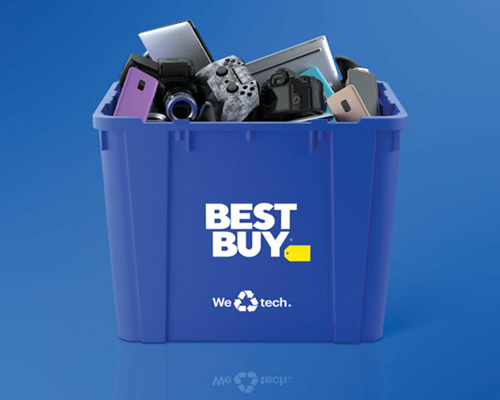 ALE VALERIANO - STAFF WRITER
As the nation's largest seller of consumer electronics, we are committed to being there for the entire lifecycle of your technology products — from the time you start shopping at Best Buy until that product is responsibly recycled.
This is all part of how we support the circular economy, a system in which nothing is wasted. For us, that also means keeping products and materials in use as long as possible and finding alternatives to throwing them away. Through programs including Geek Squad repair or our haul-away services, we make it easy to give tech a second life and out of landfills.
"The circular economy is a way to strengthen our business and promote the health of our communities for years to come," said Tim Dunn, Best Buy's head of environmental sustainability. "We are committed to helping our customers make a difference in their communities and creating a lasting, positive impact on the planet."
Here's how we are supporting customers through the lifecycles of their products:
Repair
To help customers extend the life of their products, we use the skills of our Geek Squad Agents and repair partners. Get professional appliance repair in-home or drop off at one of more than 1,000 locations nationwide. Every year we repair about 1.7 million devices, keeping products in the "use" phase longer and out of landfills.
Reuse through Trade-In
The Best Buy Trade-In Program is the core of our "reuse" phase of the product life cycle. The program offers customers a convenient way to receive value for products that are still in good, working condition. Check out our trade-in estimator to see what your item is worth, then trade it in for a Best Buy Gift Card you can use to upgrade to the latest tech. Through the trade-In program, we have kept over 2 million products and devices out of landfills. In 2021, we helped customers trade in more than 650,000 devices.
Recycle
When a product is no longer usable, we will responsibly recycle it through our e-waste recycling program. As the nation's largest retail collector of e-waste, we have helped our customers recycle more than 2.7 billion pounds of electronics and appliances since 2009. Our recycling program accepts a variety of used electronics, regardless of where they were purchased, how old they are, or who made them. We also launched our Standalone Haul-Away service last year, where we will haul away and recycle old tech items from customers' homes.
Learn more about Best Buy's sustainability efforts, here, or read our 2022 Environmental, Social and Governance Report.
---

For the full article, please access the Best Buy Corporate site.
< Back