Canada Vendor Partner Newsletter: October / November 2021
Published 11/30/2021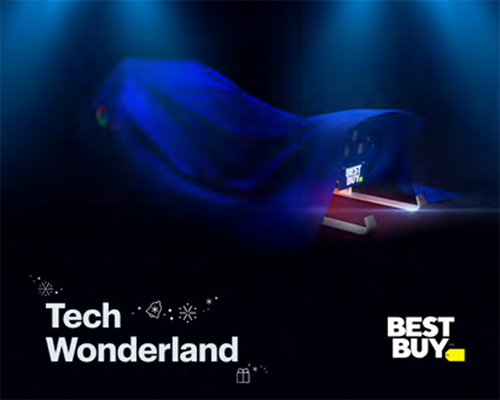 VENDOR PARTNER NEWS

Best Buy Tech Wonderland.
inspiring our customers to gift and use tech to enrich their holiday experience.

Toronto - November 19-20
Yonge and Dundas Square

Montreal - November 26-27
Port of Montreal / Le Port de Montréal

---
We have created two memorable and interactive events for our customers that will attract media attention and continue to drive brand love. Our goal for this activation is to inspire our customers to use tech to enrich their holiday experience by showcasing the Latest and Greatest Tech this season.

Toronto Tech Wonderland will be held at the Yonge & Dundas Square on November 19-20, 2021; while Montreal Tech Wonderland will be at the Port of Montreal (Le Port de Montréal) on November 26-27, 2021.

The Marketing and PR teams have been hard at work creating a magical holiday experience for Canadians in Montreal and Toronto - with the help of our partners: Microsoft, Google, Sony, Telus, and Oculus. The giveaway prizes were generously provided by: OSMO, NESTBASE, Arcade1 Up, and Vtech.
Find out how Santa decked out his sleigh with smart tech: Check out Santa's sleigh powered by Google. Control his sleigh's advanced features with the sound of your voice, and meet Santa himself.
Play with technology to enhance your holiday traditions: in the Microsoft zone, design your own ornaments, write a letter to Santa and drop it off in his mailbox. Play the hottest VR games on the Oculus Quest 2.
Optimize your family's home theatre experience: in the Sony zone, see the "latest and greatest" Sony tech products. Find our elf Techie in five different holiday celebrations around the world, and enter the contest for your chance to win the Sony 100" TV and home theatre package.
Get in the holiday mood: at the Telus stage where the DJ will be laying on holiday remixes.
Read Complete October/November 2021 Canada Vendor Newsletter
< Back