Blue Gives Back: COVID-19 Relief (Canada)
Published 12/02/2020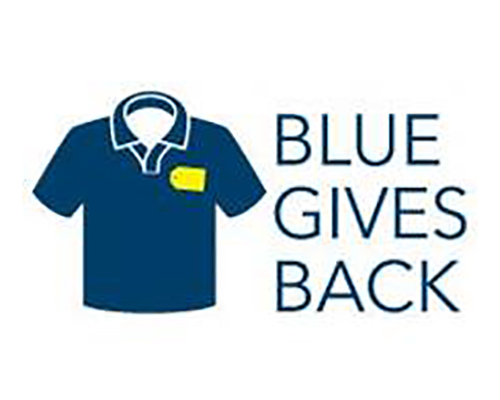 During these challenging times, we're continuing to support our communities in the best ways we can, when we can. Our purpose of enriching lives through technology is more important than ever and we're proud to be able to connect our communities when they need it most.
Since we can't offer our typical Social Impact programming this spring, such as our School Tech Grants and Geek Squad Academy, we've decided to address current needs that our communities face as a result of COVID-19.
Our Social Impact team has been working on a plan that aligns with our purpose, uses our resources and contacts most effectively and provides opportunities for our team members to get involved. We're excited to be able to share this plan with you as we roll these initiatives out over the coming weeks and months.
These initiatives include:
Partnering with Samsung and working with Conquer COVID-19 to provide tablets to hospitals across the country looking to connect terminal patients in isolation with their family.
Helping to support our national partner, Boys and Girls Clubs of Canada, by providing devices to students from low-income families to help them connect with their teachers and educational resources.
Offering free Geek Squad Academy Online Learning to parents and teachers looking for engaging content to introduce students to a variety of STEM topics, such as digital photography, HTML basics, binary coding, and video game creation.
Supporting our stores to give back in their local communities so our employees can make a difference to the organizations that matter to them.
It's a difficult time to fund any projects of any kind at the moment, but we believe that supporting our communities in these small ways stays true to our purpose, values and company culture. If your company is interested in participating in a "Blue Gives Back" project, please contact Karen Arsenault.
< Back