Best Buy unveils My Best Buy Memberships™
Published 05/11/2023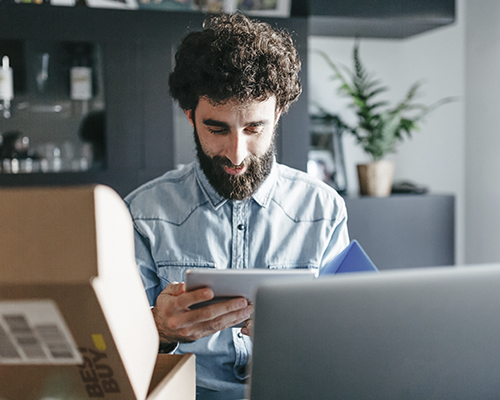 New My Best Buy Plus™ tier is available June 27 and includes access to exclusive member prices and highly anticipated product releases, as well as free 2-day shipping and more for only $49.99/year(1)

MINNEAPOLIS—May 11, 2023. Today, Best Buy is unveiling a new suite of membership options — My Best Buy Memberships™ — that give customers more freedom to choose a membership that fits their technology needs, budget and lifestyle. One of these options includes a new tier, at a more affordable price, that offers exclusive prices and access to highly anticipated product releases.
Our collection of memberships now includes My Best Buy™, My Best Buy Plus™ and My Best Buy Total™. Each membership tier has a different set of benefits – ranging from members-only pricing and deals, access to exclusive sales and events, 24/7 tech support, product protection, free shipping and more – and at different price points, giving customers the ability to choose an option that best fits the convenience, value, support and protection they're looking for.
"We've learned a tremendous amount from our members over the last couple years, especially that different customers value very different benefits when it comes to their technology," said Patrick McGinnis, SVP of Memberships at Best Buy. "Creating these new membership options allows us to be there for all of our customers in the ways that are most important to them."
Best Buy's existing membership, Best Buy Totaltech™, launched nationwide in 2021 and helped shape the tiered My Best Buy Membership options. Totaltech members engage with Best Buy more frequently, purchase more of their tech at Best Buy and experience considerably higher satisfaction rates, especially for tech support, compared to non-members. Also, members have taken advantage of benefits in noticeably different ways; for example, some of our members use member pricing and product protection more often, while other members more frequently leverage tech support services. And all members cite free shipping as one of the most valuable benefits.
As part of the launch of My Best Buy Memberships™ on June 27, Totaltech will transition to My Best Buy Total™. Current Totaltech members will receive an email in the coming months with more details. Members will be able to transition between the My Best Buy, My Best Buy Plus and My Best Buy Total tiers or cancel their membership at any time if their tech needs change.
Here's what customers can expect from each tier:
My Best Buy™
Our free existing membership plan is built for customers who want convenience. My Best Buy includes:
Free shipping with no minimum purchase(2)
Access to purchase history, online order tracking and up-to-date shipping info
Quick checkout, save items to keep an ongoing wish list of your favorite tech
My Best Buy Plus™
A membership plan built for customers who want value and access. For $49.99/year(1), My Best Buy Plus™ includes everything you get with My Best Buy, as well as:
Exclusive member-only prices on thousands of items
Exclusive access to sales, events and highly anticipated products
Free 2-day shipping with no minimum purchase(3)
Extended 60-day return and exchange window on most products(4)
My Best Buy Total™
A membership plan built for customers who want protection and support. For 179.99/year (1), My Best Buy Total™ includes everything you get with My Best Buy Plus, as well as:
Geek Squad® 24/7/365 tech support for all your tech—no matter where you bought it
VIP priority support any time and access to a specially trained team for advice, customer service and coordination via phone or chat
Up to two years of product protection, including AppleCare+, on most new Best Buy purchases while you're a member(5)
20% off repairs(6)
Promotional service offers from time-to-time like discounted in-home installation and haul away
Current Totaltech members will continue to receive their existing membership benefits through the end of their renewal date.
My Best Buy® Credit Cardmembers get access to even more benefits, including an exclusive 5% back(7) in rewards or flexible financing options on purchases made at Best Buy. As a Cardmember, they also are automatically enrolled into and have access to My Best Buy (free) membership benefits.
#####################
Disclaimers:
My Best Buy Plus™ and My Best Buy Total™ memberships automatically renew and are subject to complete Terms and Conditions. A My Best Buy™ account is required, subject to the My Best Buy™ Program Terms. Memberships may be canceled at any time.
Exclusions, terms and conditions apply. See BestBuy.com/Shipping for details.
2-day shipping is not available in all areas. Select items limited to free standard shipping at the time of purchase. Limitations apply, including extra days for shipping due to limited inventory or constrained carrier capacity. Orders to P.O. Boxes may result in additional shipping time.
Members will benefit from a 60-day return and exchange period on "most products," as indicated in our Returns and Exchanges Policy. All other terms and conditions of our Returns and Exchanges Policy apply, including, for example, the 14-day return period on activatable devices (select carriers may have a longer return period). See BestBuy.com/Returns for complete terms and conditions.
Product protection only applies to purchases at Best Buy®. Terms and conditions apply. The complete Terms and Conditions for Best Buy Protection and AppleCare+ can be found at BestBuy.com/ServicesTermsConditions under the "Protection" tab. Canceling your membership will cancel any remaining months of protection plan(s). Best Buy Product Protection, Inc. is the Obligor and Administrator of the Coverage under Best Buy Protection Plans. The company obligated under AppleCare+ in the United States is AppleCare Service Company, Inc., an Arizona corporation and wholly owned subsidiary of Apple Inc., doing business in Texas as Apple CSC Inc. Service fees apply to Coverage under AppleCare+ and Best Buy Protection. Claim limits apply to Best Buy Protection.
Discount applies to labor only. Fees for necessary parts, accessories or permits will be charged.
Get 2.5 points per $1 spent (5% back in rewards) on qualifying Best Buy® purchases when you choose Standard Credit with your Best Buy Credit Card. Points are not awarded on promotional credit purchases. Does not include tax. Additional limitations may apply. Subject to My Best Buy™ Program Terms. Subject to change without notice.
---

For the full article, please access the Best Buy Corporate site.
< Back