10th Best Buy Teen Tech Center opens in Minnesota
Published 04/12/2023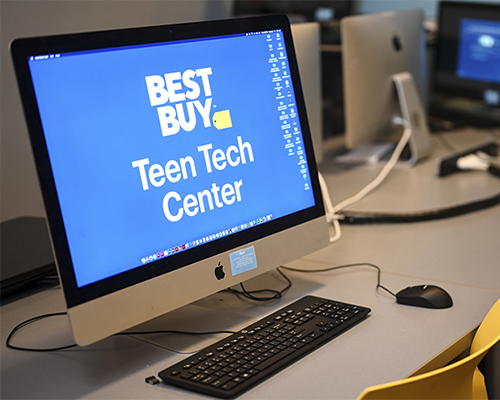 ALE VALERIANO - STAFF WRITER
We're excited to celebrate a major milestone in Minnesota today with the opening of the state's 10th Best Buy Teen Tech Center®, a program of the Best Buy Foundation. The new center, located at the Richfield Middle School Boys & Girls Club powered by Premium Retail, is the 53rd Teen Tech Center to open.
This year also marks the 10th anniversary of the foundation's signature program, and Best Buy is committed to help build 100 Teen Tech Centers across the country by 2025. Each location provides a safe space for teens to create, learn and explore using the latest cutting-edge technology.
"We believe that every young person deserves the opportunity to pursue their dreams, and that's at the heart of every Teen Tech Center," said Andrea Wood, Best Buy's vice president of social impact. "Each center aims to lift up the next generation of youth in Minnesota by giving them the opportunity to learn and grow."
The Teen Tech Center at Richfield Middle School will provide members with the opportunities to build skills for their future careers through hands-on activities in photography, augmented and virtual reality, 3-D design and more.
A decade of building brighter futures
In 2013, the Best Buy Foundation opened the first Teen Tech Center in partnership with the Minneapolis Central Branch of the Hennepin County Library. Since then, countless dreams have become reality within the walls of Teen Tech Centers across the country.
We couldn't do this work without our community partners, employees, vendors and customers that are committed to building something amazing, together. Over the last year, we have been inspired by customers contributing more than $7.5 million to the Best Buy Foundation. We have also had the opportunity to work with community partners like the Minnesota Twins and the Minnesota Timberwolves and Lynx to show Teen Tech Center participants the different ways tech can show up in their future careers.
The Best Buy Foundation is a 501(c)(3) organization founded by Best Buy in 1994 to support opportunities to build brighter futures for teens from disinvested communities.
For more information about the Best Buy Teen Tech Center® program, visit here.
---

For the full article, please access the Best Buy Corporate site.
< Back