Best Buy's role in the future of aging at home: Deborah Di Sanzo at SXSW
Published 03/15/2022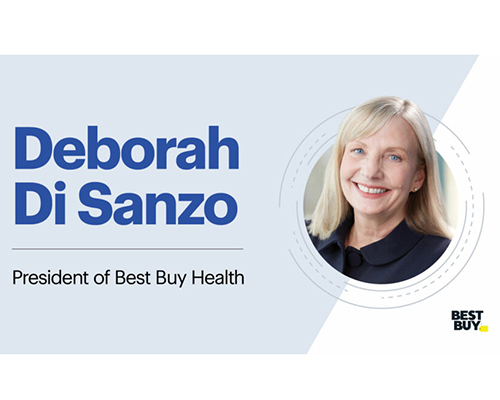 BECCA LUNT - STAFF WRITER
Sure, the well-known South by Southwest (SXSW) conference and festival features concerts, art exhibitions and celebrities exploring Austin, Texas. But the real magic happens when industry leaders and speakers convene to discuss and debate challenges and share their perspectives on the future of tech innovation.
This year, President of Best Buy Health Deborah Di Sanzo hit the stage to share how Best Buy is using technology to enable aging adults to live and thrive in the comfort of their homes.
A Panel of Industry-leading Experts
In the panel "There's No Place Like Home: Scaling for the Future," presented by Energizing Health, Deborah joined Hon Pak, chief medical officer at Samsung; Bill Hawkins, senior advisor at EW Healthcare Partners; and host Jisella Dolan, chief global advocacy officer at Home Instead. These leaders discussed the growing population of adults 65 and older who want to age in their home, along with the strategies, innovations and opportunities for the healthcare and technology industries to meet these needs.
"It's not just about the tech, or the caregivers. It is about the high tech and high touch."
- Deborah Di Sanzo, President of Best Buy Health
Technology that Enables Care at Home
While technology continues to rapidly move into health and health moves into the home, Deborah explained how making the connections can still be complicated for most consumers. For health technology to succeed, consumers need experts who understand and support their unique needs.
What role does retail play in this space? Deborah shared how Best Buy is in a unique position to help. We have products (like personal emergency response devices and blood pressure cuffs), connections to the home with services like Geek Squad (although still in development for Health), and Caring Center support teams that the aging population needs to feel safe, supported and healthy at home.
And it's important that caregivers feel the same peace of mind, which is why our Lively services go a step further, providing a Link app for caregivers to check in on their loved one's location or make sure they're using their device.
Aging at Home in Focus
So, what does it look like when Best Buy Health ties it all together? Deborah laid out a full customer journey. A woman worries about her father living alone at home, so she purchases a Lively Smart phone and Apple Watch for her dad from Best Buy, along with a monthly Lively Health & Safety subscription plan. He uses his Lively Smart to request a Lyft ride to a doctor's office through a Caring Center agent for an upcoming appointment. If he has a minor fall at home, he uses a Lively device to alert the Caring Center, who will then follow protocol to determine if emergency medical services are needed or contact his daughter to ensure he has follow-up care and support.
With studies showing that nearly 90% of adults 65 and older want to live in their homes, discussions like Deborah's panel at SXSW are becoming increasingly important. At the end of the day, the goal of the industry is to support independence and provide people with the freedom to choose their future.
---

For the full article, please access the Best Buy Corporate site.
< Back