Here's how Best Buy is making it easy to recycle your old tech
Published 11/14/2022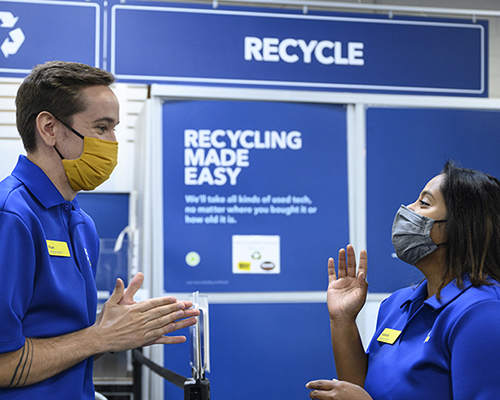 KLOÉ MALLARD - STAFF WRITER
November 15 is America Recycles Day. Celebrate by bringing your old electronics to Best Buy, the largest retail collector of e-waste in the United States.
We established our recycling program in 2009 and have since recycled more than 2 billion pounds of electronics and appliances. In addition to our recycling efforts, we've also pledged to be carbon-neutral across our business by 2040.
This year, we took steps towards making the recycling process even easier for our customers by adding our Standalone Haul-Away service. At the click of a button, anyone in the U.S. can now request pickup and recycling for old electronics, keeping tech, including appliances, out of landfills and giving it a second life.
What to know before you go
Before you come into your local Best Buy with your electronics, here are a few things you need to know:
You can recycle up to three items per household per day.
Although we recycle many items for free, some products are recycled for a fee.
Your old tech might have value! You can use our Trade-in Calculator to check.
We recommend you delete all data in your devices before turning them in to be recycled but know that we also erase all information from devices we receive.
We haul away TVs and major appliances from your home for $39.99 when a replacement product is delivered by Geek Squad or Best Buy Home Delivery.
Some products we accept
TV and video: Projectors, wall mounts, DVD/Blu-ray players, TVs, headphones, VCRs, remotes
Computers and tablets: Battery backups, laptops, monitors, mice and keyboards, webcams, hard drives, ink/toner cartridges
Car audio, video, GPS: Speakers/amps, GPS devices, radar detectors, security systems, CB radios
Appliances: Vacuums, fans, dryers, dishwashers, wall ovens, refrigerators, microwaves, rang/stoves, ice makers, cooktops
Click here for a full list of products that we recycle as well as state-specific information and details on recycling fees.
---

For the full article, please access the Best Buy Corporate site.
< Back