Best Buy celebrates $20.5M raised for St. Jude
Published 03/11/2022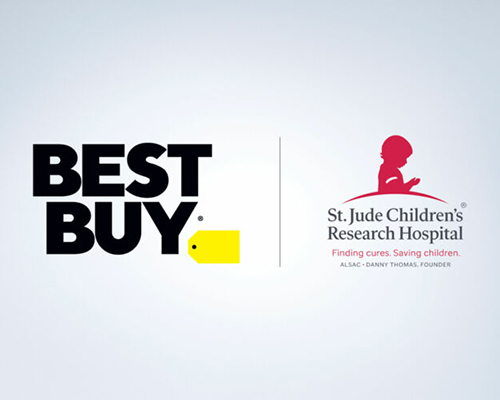 OLIVIA BRUCE - STAFF WRITER
St. Jude Children's Research Hospital® is on a mission to treat childhood cancer and other life-threatening diseases, and Best Buy is proud to be a part of it.
This year, we raised more than $20.5 million during the annual St. Jude Thanks and Giving® campaign, making it our sixth year in a row as the top corporate fundraising partner. We reached this milestone thanks to our employees and communities rallying around the St. Jude mission: Finding cures. Saving children.®
"It's inspiring to see our employees and customers showing up every year to do what they can to help the children and families of St. Jude," said Ray Sliva, Best Buy's chief people officer. "Our partnership with St. Jude is the perfect example of the impact we can have when we come together to save lives."
Since 2013, Best Buy has collected more than $145 million in donations for St. Jude.
"For six years in a row, Best Buy has raised the most funds for St. Jude Children's Research Hospital as a corporate partner, making such a positive impact on kids around the world," said Richard C. Shadyac Jr., President and CEO of ALSAC, the fundraising and awareness organization for St. Jude Children's Research Hospital. "We are incredibly grateful for Best Buy's continued commitment to our lifesaving mission that helps fuel the six-year, $11.5 billion St. Jude strategic plan."
The St. Jude Impact
Over the last ten years, Best Buy stores and communities have embraced St. Jude's mission. Every dollar donated during the St. Jude Thanks and Giving® campaign helps make sure families never receive a bill from St. Jude for treatment, travel, housing or food, so they can focus on helping their child live.
For Best Buy employee Mark Lavoie, the impact of this life-saving work hits close to home. In 2020, Mark's son, Tyler, was diagnosed with acute myeloid leukemia (AML). Once the diagnosis was confirmed, Tyler was immediately transferred to St. Jude, which developed a care plan for him that included months of in-patient chemotherapy.
As a result of the support and care he received there, Tyler, who is now 14, finished his treatment in June 2021 and has been declared in remission. He will continue to have checkups and ongoing visits over the next few years as part of the treatment plan.
"You truly do not fully understand the impact that St. Jude has on lives until you have been through it," Mark said. "My family and I would like to personally say thank you for all the work that is put in every year, every dollar helps."
Going the extra mile
During the holiday season, our employees collected donations at the registers in every Best Buy store, online at BestBuy.com and during in-home service visits. From Maine to Washington and all across the country, employees come together to make the biggest impact possible. In December, some literally went the extra mile as 18 Best Buy employees participated in the St. Jude Memphis Marathon Weekend in Memphis, Tennessee. These runners raised nearly $47,000, well beyond their initial goal of $25,000.
Donations raised by Best Buy allow St. Jude to focus on what matters most—saving kids regardless of their financial situation. This year's funds can help in many ways, and here are some examples of how.
Help cover in-patient hospital stays of 1,108 days for two St. Jude patients
Help provide 12,299 days of intravenous chemotherapy for leukemia or solid tumor patients.
Help cover the cost of treating 48 pediatric cancer patients, whose treatment can last three years or longer, at an average cost of $425,000 per patient and up to $1 million per patient
St. Jude shares the breakthroughs it makes, and every child saved at St. Jude means doctors and scientists worldwide can use that knowledge to save thousands more children
To learn more about how we support the St. Jude Thanks and Giving campaign, click here.
---

For the full article, please access the Best Buy Corporate site.
< Back