Product Certification Overview - Canada
Published 12/20/2018, 07:22 PM
Last Update 01/18/2023, 03:14 PM
Best Buy requires all consumer electronic products it purchases to pass nationally certified laboratory testing standards. This includes all such products intended for resale via its retail stores and internet web sites operating under the Best Buy brand. Only consumer electronics products that have been tested and certified by Underwriters Laboratories Inc. ("ULc") and/or CSA International ("CSA") will be approved for purchase by Best Buy and its subsidiaries and affiliates. For any questions regarding this policy please contact the Best Buy Corporate Risk Management Department.
---
Product Certification
CSA – CSA International is a provider of product testing and certification services for electrical, mechanical, plumbing, gas and a variety of other products. Recognized in Canada, the U.S. and around the world, CSA's marks appear on over one billion products worldwide. CSA International is a division of CSA Group, which consists of CSA International, Canadian Standards Association, a developer of standards and codes, and QMI for management systems registration.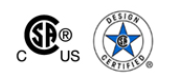 ---
ULc – Underwriters Laboratories Inc. (ULc) is an independent, not-for-profit product safety testing and certification organization.