Best Buy and the circular economy
Published 03/27/2023
ALE VALERIANO - STAFF WRITER
In a world of finite resources, Best Buy is working on ways to do business where nothing is wasted.
From investing in renewable energy to reducing waste in our operations and offering products that help our customers live more sustainably, we're prioritizing the circular economy. It's a system that promotes using fewer new natural resources, keeping products and materials in use as long as possible and finding alternatives to throwing them away.
"The shift to a circular economy has challenges, especially because it requires innovation and exploring new ways to create and use products," said Tim Dunn, Best Buy's head of environmental sustainability. "As a company that makes decisions with the future in mind, we know it's the right thing to do to strengthen our business, improve people's lives and promote the health of our communities for years to come."
Here's a look at how we are advancing the circular economy in our products, operations and energy usage:
Circular economy and our products
To support customers through the lifecycles of their products, we offer energy-efficient products, sustainable packing and give tech a second life through programs like our e-waste recycling. We've set a goal to help our customers cut their carbon 20% by 2030 through the use of ENERGY STAR certified products. In addition, we're committed to keeping products in use for as long as possible through our repair, trade-in, and recycling programs. Every year we repair about 1.7 million devices and, since 2009, we've helped our customers responsibly recycle more than 2.7 billion pounds of electronics and appliances.
Circular economy and our operations
By reviewing our operations with circular economy principles in mind, we've been able to make significant changes across our business. Many projects scaled across our stores and headquarters contribute to improved energy usage, from installing LED lighting, process controls and high-efficiency HVAC systems. We have also achieved TRUE certification for zero waste at several supply chain facilities.
Circular economy and energy
When it comes to energy usage, we are focused on advocating for clean energy, working towards electrifying our fleet, and sourcing renewable energy. Since 2009, we have cut carbon emissions in our operations by 62%. One way we are bringing this goal to life is by investing in solar projects across the country, including California, South Carolina, and Texas. Our climate action has been recognized for six consecutive years by CDP, the global authority on climate change, which named Best Buy to its prestigious Climate A List.
As the urgency of climate change has grown, so have our commitments to protect our planet. We will contribute to taking bold action to make a positive, lasting impact on the environment for our communities nationwide.
View our latest ESG report or click here for more information about Best Buy's commitments.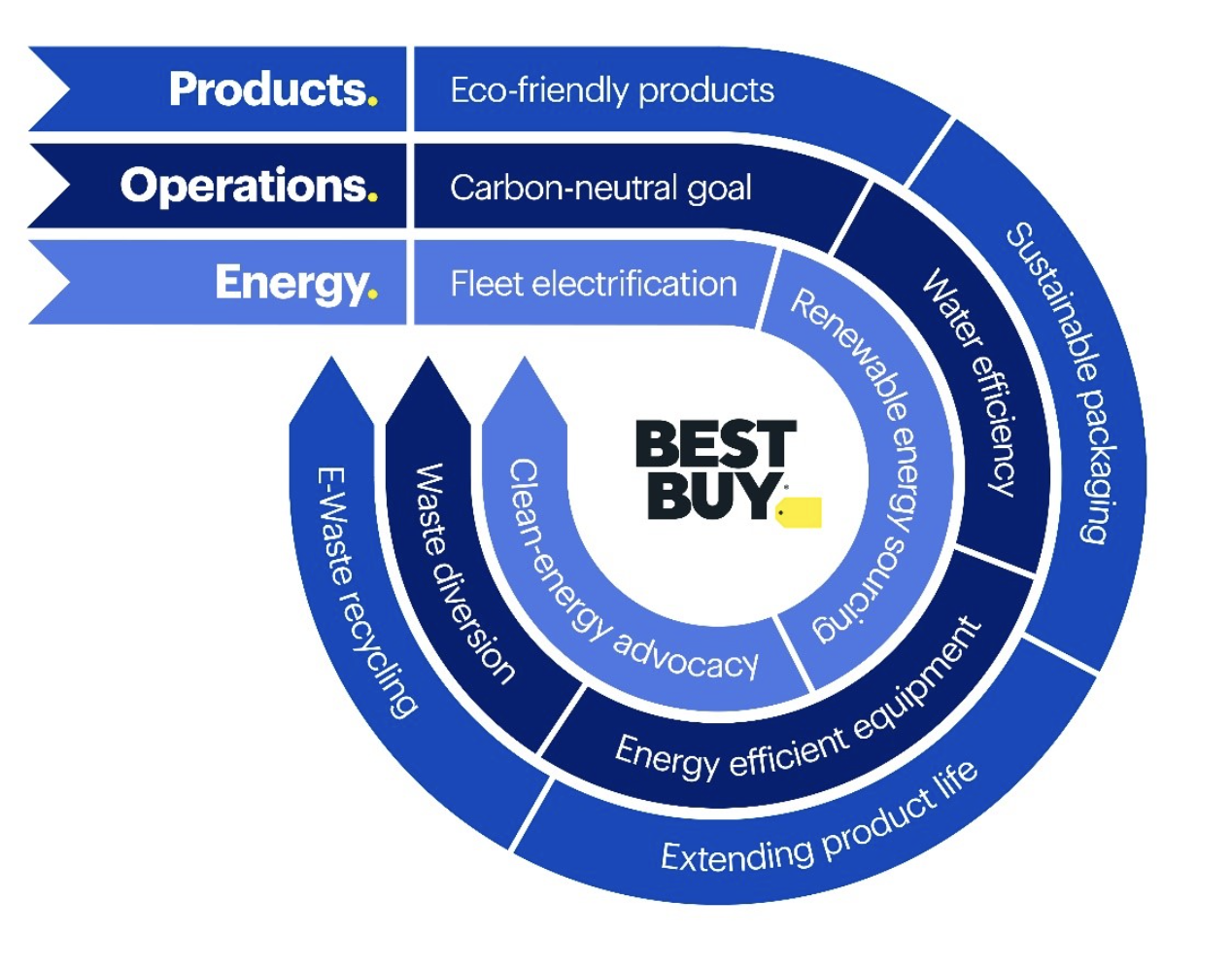 ---

For the full article, please access the Best Buy Corporate site.
< Back