US Non-Merch (GNFR)
Departments within United States Non-Merchandising / GNFR (Goods Not for Resale):
Brand & Display Standards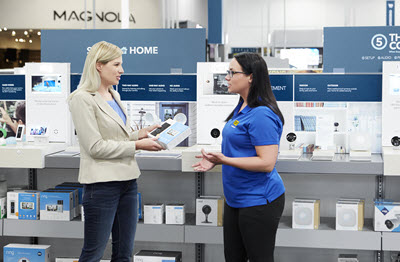 This page has news, upcoming training, and general how-to documentation specific to brand execution information, visual merchandising guidelines, and vendor provided parts and display guidelines relevant to non-merchandising (GNFR) partners doing business in the United States.
Scheduled Training & Events (times shown are central time)
There is no upcoming scheduled training for this area at this time.
---
Best Buy ranked No. 1 big-box retailer for COVID-19 safety
Best Buy has ranked as the top big-box retailer in a national assessment of brands' safety response to the COVID-19 pandemic.
View Article
Best Buy extends support for COVID-19 relief in India
We have been devastated as we've watched the rapidly rising cases of COVID-19 in India. Our hearts and thoughts are with everyone in the country, including many of our colleagues, friends and partners.
View Article
Published 04/30/2021
The Vendor Provided Displays: Kits and Parts Hand-off Form is in Excel format and contains the form, as well as a completed example of the form.
Last Update: 07/12/2021
Document
This document will help to ensure our VPP/VPD (Vendor provided parts/displays) merchandising solutions are deployed accurately, documented by location and are maintained and sustained for the life of the part/display in our retails stores.
Last Update: 04/28/2021
Document
The following design guidelines describe the different areas used by vendors and the rules regarding how those areas are messaged: store layout, vendor space, messaging hierarchy and graphic templates. These rules should always be followed to ensure consistency throughout the store.
Last Update: 03/08/2021
Document
This page contains the Best Buy Vendor Fixture Guidelines and the Architectural Vendor Guidelines.
Last Update: 03/08/2021
Web Content
Please see attached document for additional information on how to package an InDesign file.
Last Update: 09/11/2020
Document
Displays in Best Buy should help provide a Best in Class experience for customers to learn and interact with new technology. To best achieve this goal, the Technology Design Lab should be included as early as possible in the process.
Last Update: 08/13/2020
Document