null
A sneak peek into Best Buy Canada's first Teen Tech Centre
A sneak peek into Best Buy Canada's first Teen Tech Centre
Published 10/02/2020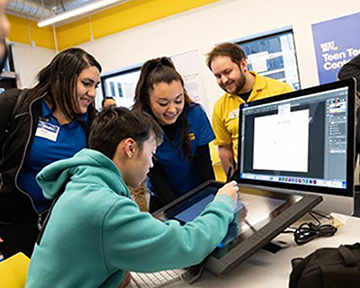 Technology inspires kids to connect, learn and innovate. At Best Buy, we know that technology empowers youth to dream big and accomplish great things, which is why we're proud to be creating Best Buy Canada's first Teen Tech Centre (TTC).
Description automatically generatedTeen Tech Centres are free and safe after-school spaces that provide youth with a chance to experiment with cutting-edge technology. Working closely with our partners in the US, with support of the Best Buy Foundation, this location will be one of 40 Teen Tech Centres across North America.
Stay tuned for more information – including how you can get involved as an adult mentor – leading to a grand opening in January!
Fast Facts:
With most jobs in the next decade requiring the use of technology, Best Buy's goal is to open 100 TTCs across North America to help bridge the digital divide and set youth up for success in their future careers.
Best Buy Canada's first Teen Tech Centre will be at the Hillside Boys and Girls Club in North Delta, B.C.
The TTC will offer various activities, such as programming, filmmaking, music production and more.
< Back