Parity.org names Best Buy one of 'Best Companies for Women to Advance'
Published 06/22/2021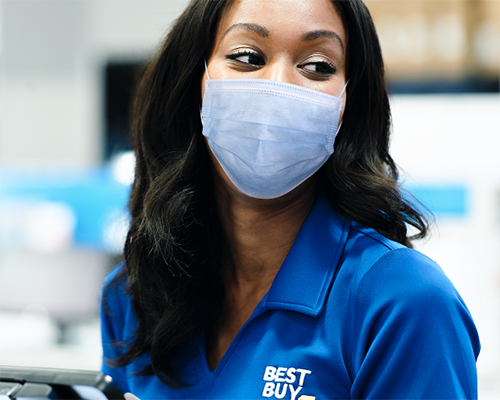 JOHN VOMHOF JR. - STAFF WRITER
For the second straight year, Parity.org has named Best Buy to its list of Best Companies for Women to Advance.
The list recognizes 34 companies that have implemented exemplary benefits, policies and programs that ensure women have significant opportunities to advance their careers. Only 11 large companies made the 2021 list, based on a rating that considered recruitment, benefits, executive preparation, measurement and overall representation.
Best Buy is committed to inclusion and diversity, and we're proud to have women leaders at the highest levels of our company. That includes CEO Corie Barry and 45% of our board of directors.
In 2017, Best Buy signed Parity.org's ParityPledge, committing to interview a least one qualified female candidate for every open position at the vice president level and above. And we have set a goal to fill one out of three new, non-hourly field roles with women.
In addition to this recognition, Best Buy ranked in the top 10 on Forbes' latest list of America's Best Employers for Women. We were also named to Bloomberg's Gender Equality Index for the second consecutive year.
Supporting women and families
At Best Buy, we offer a wide range of benefits aimed at supporting women and families. We have added or enhanced those resources during the COVID-19 pandemic to help make life less stressful and improve our employees' well-being.
Examples include:
Our Caregiver Pay benefit, which provides four weeks of full pay for those who need to care for a spouse/domestic partner, parent or children under the age of 18. In 2020, we expanded that to also include siblings, in-laws, grandchildren, grandparents and children 18 or older.
An expanded arrangement with Care.com that provides employees with 10 days of emergency backup child care for $10 per visit. It allows the option for employees to use child care services from their personal network, such as someone they know.
Our enhanced paid leave program, which provides up to six weeks of time off at 100% of base pay. This allows full-time benefits-eligible employees to take a leave of absence for a medical condition, such as needing a surgery or for mental health, without an interruption in pay.
A new tutoring reimbursement of up to $100 a month for school-age dependents between the ages of 5 and 18.
The introduction of Wellthy, a personalized caregiving support service that helps employees tackle the logistical and administrative tasks of caring for a child or other loved ones.
New flexible work options, which include a reduced schedule at 80% or 60% (with a corresponding reduction in pay); a job share, where two employees share one full-time position; or a voluntary furlough with company-paid benefits.
A variety of mental health benefits, including up to eight no-cost virtual or in-person counseling sessions per event per year.
About the list
Parity.org established the Best Companies for Women to Advance List to recognize organizations that have benefits, policies and programs that are particularly beneficial for women to advance in the workplace.
Companies on the list were rated in areas of equality in hiring and promotion practices, inclusion, representation of women in leadership, and enablers, such as benefits and other policies, that help companies achieve equitable outcomes.
Companies on the 2021 list share many common best practices that are known to support women, such as work-from-home or telecommute options, flexible working hours and equal paid family leave for men and women. Nearly every company measures and reports on gender parity to the executive team, and every company regularly communicates its gender-parity values to employees, encourages men to take their full family leave and has a zero-tolerance policy for harassment.
Parity.org is a nonprofit focused on bringing gender equality to the highest levels of business.
Click here to learn more about careers at Best Buy.
---
For the full article, please access the Best Buy Corporate site.
< Back