Top 5 tips to clean up your devices this spring
Published 04/18/2022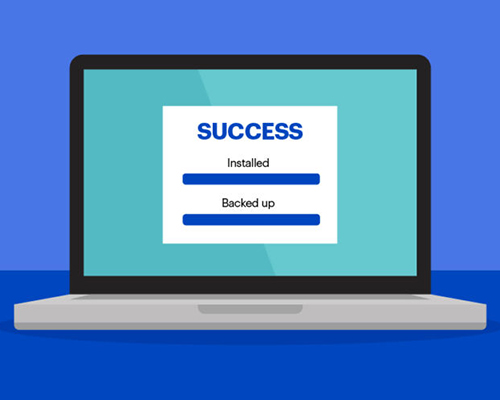 KYLE TEKAUTZ - STAFF WRITER
Spring has sprung! Coinciding with spring cleaning, we're all looking for ways to make our spaces cleaner and more organized, but have you thought about the technology in your life, too? These fresh tips will help you clean up your devices, and also keep you protected.
Back up your data
Have you ever lost important data, or had a moment of panic where you thought you did? Save yourself the heartache and headache by backing up your data to a safe and secure location frequently. Data loss can hit when you least expect it – whether it's from hard drive failures, ransomware, or human error.
Download and install software updates
Putting off important updates? Instead of clicking, "Remind Me Later" use this spring to catch up on any important software updates. Software updates are important to your digital safety and cyber security. They help patch security flaws and keep your data safe. Treat yourself to the new benefits, features and performance while keeping your tech protected.
Update passwords and set up multifactor authentication
When's the last time you changed your password? Strong passwords are the foundation of a safe online presence, and it's important to protect your passwords like the valuable assets they are. Creating strong, unique passwords and setting up multi-factor authentication are the best ways to protect your accounts.
Delete unused and outdated files
Like donating the old sweater in your closet, getting rid of unused software or outdated programs is Spring Cleaning 101. Cleaning up your downloads will make your device perform better, making it easier to navigate and more secure. Those old apps that no longer get updates or that you haven't updated in a long time can have some serious security flaws. By keeping around applications that no longer serve you, you could possibly be jeopardizing your data security.
Set app permissions
Sometimes, apps ask for more information than they need. Checking your app permissions frequently gives you control over your privacy and allows you to stop apps from draining your battery in the background. Go to your device settings, and click on the Privacy tab to adjust the permissions for each app.
Looking to clean up your space too? Check out Best Buy's recycling program to recycle all kinds of tech, no matter how old or where you bought it.
---

For the full article, please access the Best Buy Corporate site.
< Back