null
Best Buy Wins Big at the Canadian HR Awards
Best Buy Wins Big at the Canadian HR Awards
Published 09/26/2019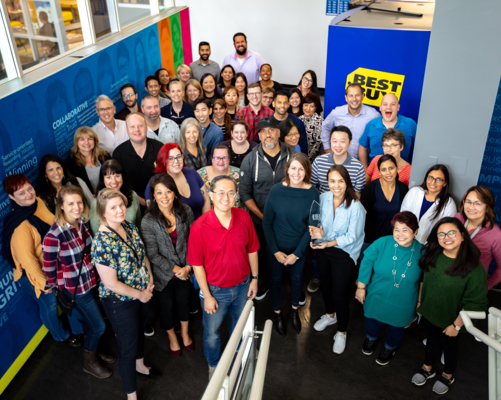 We're thrilled to announce that Best Buy Canada took home the Canadian HR Team of the Year (Retail or Hospitality) award at the Canadian HR Awards gala in Toronto on September 12!
This award recognizes the most outstanding HR team of the year within retail or hospitality that has excelled by partnering both with each other as a team as well as with different business functions to execute innovative HR strategies and programs. Colin Picard, Director, Human Resources, Nivin Knight, Territory Human Resources Leader, Alison Gedye, District Human Resources Leader, and Nilesh Bhagat, Senior Manager, Rewards, were all on hand to accept the award.
"I am so proud to see the team recognized with one of the most prestigious of the Canadian HR Awards," says Chris Taylor, CHRO. "This award recognizes just how awesome our team really is, and the efforts put into delivering innovative new HR strategies, technology and methodologies across our entire business. I couldn't be prouder of our team's talent, passion and dedication to providing our associates a truly best-in-class environment."
For more information, check out the Canadian HR Awards website.
< Back