Best Buy named a best place to work for LGBTQIA+ equality
Published 01/27/2022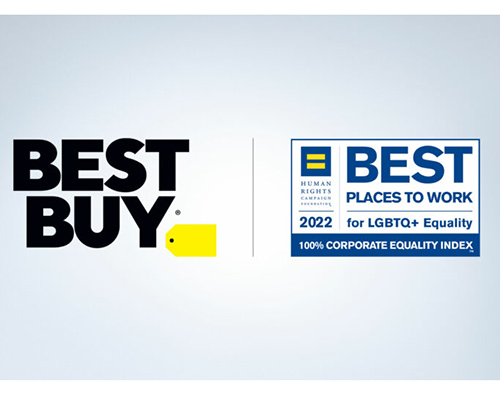 OLIVIA BRUCE - STAFF WRITER
For the 17th year, Best Buy was named one of the best places to work for the LGBTQIA+ community, earning a perfect rating of 100% from the Human Rights Campaign Corporate Equality Index.
Best Buy has taken great strides to work towards a more inclusive workplace for everyone. We are proud of this recognition, which reflects our continued commitment to workplace equality.
"We are committed to creating a workplace where everyone feels safe and supported in being their authentic selves, where our uniqueness and our diverse perspectives accelerate our learning, growth, and how we reflect all our communities," said Mark Irvin, Best Buy's chief inclusion, diversity, and talent officer. "The HRC is one of the leading benchmarks for LGBTQIA+ workplace equality, and we are proud to be recognized as a company that ensures each and every employee feels welcomed and empowered."
In addition to growing employee resource groups (ERGs), mentoring programs, leadership training and increased mental health resources, we continue to nurture a diverse, inclusive, and equitable workforce. Other actions include:
The addition of new benefits, specifically Included Health, a comprehensive health platform service for the LGBTQIA+ community that connects individuals to culturally competent, high-quality providers who understand the specific needs of the community
Adoption and surrogacy benefits for employees who want to grow their families
System enhancements that allow preferred names to be displayed across various customer and internal-facing systems
A recent donation of $25,000 to the Trevor Project, a national 24-hour, toll-free confidential suicide hotline for LGBTQIA+ youth
More about the Corporate Equality Index
Every year, the HRC Corporate Equality Index evaluates companies' policies and practices to promote equality in the workplace for LGBTQIA+ employees.
Data from the Index measures how these companies are growing and moving toward the goals they have set in place for workplace equity and unity, including domestic partner benefits, transgender-inclusive health care benefits, competency programs, nondiscrimination workplace protections, and public engagement with the LGBTQIA+ community.
To learn more about Pride at Best Buy, click here. To learn more about careers at Best Buy, click here.
---

For the full article, please access the Best Buy Corporate site.
< Back