Best Buy named to 2022 World's Most Ethical Companies list
Published 03/15/2022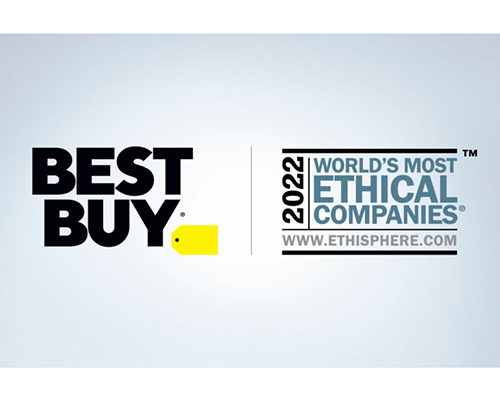 ASHLEE WEIDMAN - STAFF WRITER
Best Buy is proud to be included on Ethisphere's 2022 World's Most Ethical Companies list. We are one of only three retailers on it, and it's our eighth time earning the honor.
The Ethisphere list recognizes companies based on culture, environmental and social practices, ethics and compliance activities, and diversity initiatives.
Here are some of the efforts that contributed to our inclusion.
We continued our yearly employee Code of Ethics training. This required course for all employees contains examples of real-life, everyday situations that they might face and helps guide their decision making.
We announced our plans to open 100 Best Buy Teen Tech Center® locations by 2025. These centers provide participating youth access to tech tools, training and mentorship to help them prepare for the careers of the future.
We set a goal to help our customers reduce their carbon emissions 20% by 2030.
We launched a scholarship fund for students attending historically Black colleges and universities (HBCUs), committing to support at least 24 students over the next eight years.
At Best Buy, our business is about doing well by doing good. We are dedicated to serving our customers, employees, vendors and communities in an ethical manner and will continue to strive to be at our best in every decision, every day.
About the list
The World's Most Ethical Companies assessment process includes more than 200 questions on culture, environmental and social practices; ethics and compliance activities; governance; diversity; and initiatives to support a strong value chain. This year, the list recognized 136 companies located in 22 countries and covering 45 industries.
Learn more about ethics at Best Buy.
---

For the full article, please access the Best Buy Corporate site.
< Back